Hello cows. Let me show you to the barn. 
First, let me sum up the next few months: Pure Crazy. 
And since this year is looking to be the busiest ever for our small business, we're looking to knock out as many Fall orders (and yes, Christmas orders) as early as possible.
Now that the Why is out of the way, let's get to the How. 
- Every Apron ordered between now and October 1 scores a FREE Large Shop Journal. You order the apron, we'll throw in one of those sweet Journals.
- Plus, Free Sitewide Shipping right now.
- And don't forget that little Price Increase beginning October 1. So many reasons to get that order in right now. 
Hand Dyed Walnut Bison - 100% Free Range Buffalo
---
Tobacco - 100% USA Cowhide
---
Recent Upgrades!
Looking to add that Silva Style chest pocket, but don't need the full Turner's Edition? Well, that's now an option across the line. Hammer Loop too.
Just look for those upgrade options when you're customizing your new apron.
Lead times
Lead times on new orders are currently running 2-3 weeks. A little longer for the Turner's Edition and the Gatornado. Because those are an awful lot of work.
We're here for it.
If you run into any issues or questions during the selection/ordering process, just drop us a note at info@calaveratool.com
Best belts on planet earth
The Calavera Origin Story
Shortly after vacating my cushy office with the nice view at Festool, I decided to put the corporate life behind me for good. No Big Boxes in sight and no foreign production on the horizon... just hard work and a dream to build something special in the USA.

Head this way for the full story. Well, what's fit to print, at least.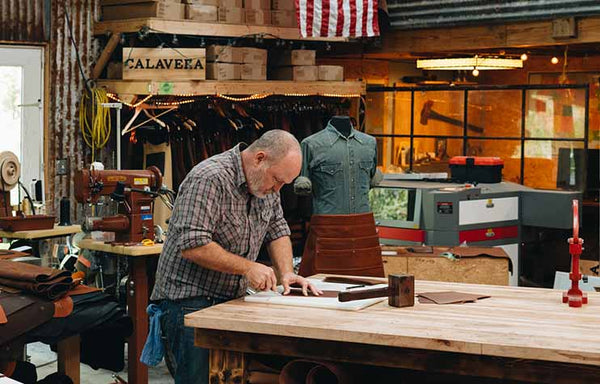 Double Stacked Pockets - Max Capacity!
We've added what we're calling Double Stacked Pockets as an option to all our aprons across the line. These compartments of goodness reside on the outside bottom of both our Standard Lower Pockets and Paolini Side Entry Pockets.
Simply choose your preferred Lower Pocket style and add Double Pockets as an option below.